Free Home Delivery on ALL Orders Over $100.00  
Choose Oakland Acura as your supplying dealer and parts orders over $100 placed through this site qualify for FREE Home Delivery. (Offer Excludes Navigation Discs, Comptech Performance parts & all other aftermarket parts.) Valid for delivery in the state of California only.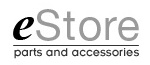 Part Managers Special
To access the parts catalog do the following:
     (1) Click on estore link above when ready to Open Catalog
     (2) Enter your car's VIN (vehicle identification number) or fill in the entire drop down box section.
     (3) Send your order to us with all your information (name, address, phone# & credit card information)
     (4) We will contact you shortly to ask for the security number off the back of the card and provide you with an ETA.
    Thank you,   
    Bill Diggs, Parts and Service Director                        
    844-499-9488