Free Home Delivery on ALL Orders Over $100.00
when placed through our Online Parts Catalog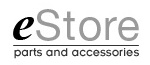 Pick Oakland Acura as your supplying dealer & parts orders over $100.00 qualify for FREE Home Delivery.  Orders must be placed through this site to receive the free delivery.   Please contact us if you have questions at (510)268-0430.  (Offer Excludes Navigation Discs, Comptech Performance parts & all other aftermarket parts.) Valid in the state of California only.
Part Managers Special
To access the parts catalog do the following:
     (1) Click on the eStore icon above which will open the parts catalog..
     (2) Enter the VIN# (vehicle identification number) or fill in the entire drop down box section.
     (3) Send your order to us with all your information (name, address, phone# & credit card information)
     (4) We will contact you shortly & ask for the security number off the back of the card & provide you with an ETA.
    Thank you,   
    Bill Diggs, Parts and Service Director                        
  (510)350-1700